This is part four of five in a series of posts about my Tesla Energy system and my understanding of how the system works. In the first three posts I cover how the system generally works. In this post, I share details of the performance of my system.
There are so many factors that affect how a solar energy system will perform and behave, including latitude and longitude, house construction, house orientation, roof shape, trees, neighboring buildings, nearby mountains, HOA, utility rates and regulations, family size and habits, whether you drive an electric car and how much you intend to charge at home, and so much more. Your system and factors will be different, and there's no way I can provide information that covers all cases. What I can do — and will focus on — is sharing details of my setup. Hopefully that's enough for you to figure out how that applies to you!
About our system and the data analyzed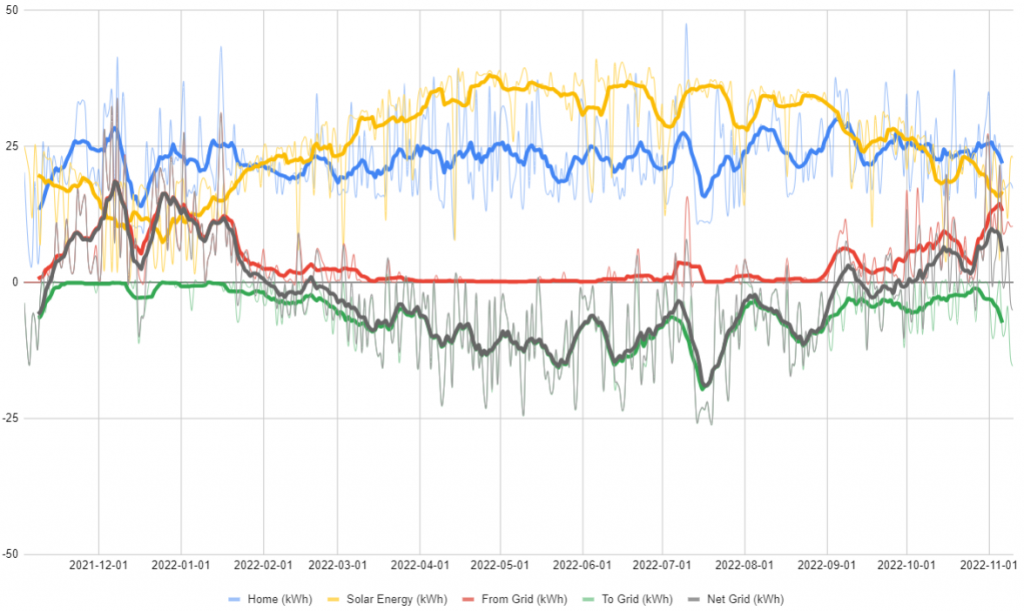 Time period analyzed is 2021-11-03 – 2022-10-29, the first whole billing year that I have data for.
Our PV system is rated for 9.41 kW, but effective output maxes out at about 6 kW.
Our solar production during that period was 9,555 kWh (average 26.5 kWh / day)
Our consumption was 8,194 kWh (average 22.7 kWh / day, or 950W average instantaneous use)
We have one Powerwall.